Shelbyville
Operational rules during COVID-19
To keep everyone safe masks will be required for those who have not received their vaccination. Masks are optional for those 15 days out from their final COVID vaccination.
We ask everyone who has received their vaccine to remain 3 ft. apart, 6 ft. for those without vaccinations
Spaces remain limited for each activity. Please call to make reservation ahead of time.
To keep cross contamination from occurring and to ensure safety: you may bring in individual beverages but no sharing. Pre-packaged food is allowed.
If you are experiencing any symptoms of illness, please remain at home.
Please know that the Executive Director, Staff and Board of Directors are trying to ensure seniors safety while providing services and programs.
Coming Events: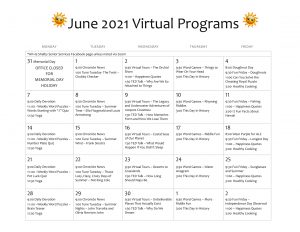 June 2021
June Highlights:
Tuesday Trivia is BACK!!! – Join us each Tuesday in June for Trivia at 1:30 p.m. We hope you will join us and test your knowledge about specific and general trivia knowledge. 
Wednesday, June 9th ,  1:30 p.m. –Diamond Art Bookmark with Rebecca $8  Back By Popular Demand – Join us for our Crafty Wednesday as we create even more Diamond Art Bookmarks. Cost is $8 – paid to Instructor at the time of the class. We had so much fun doing these that we decided to offer them again. 
Thursday, June 3rd and 17th at 1:30 p.m. – Hand and Foot Card Game We are opening for Hand and Foot on these dates. You must pre-register and have proof of vaccination to attend as space is limited.  
Thursday, June 10th ,  1:00 p.m. –Bookclub with Pam Weakley at Sunset Park  For June we are going to be reading, "Buckskin, Bloomers and Me," by Johnny D. Boggs. Since the weather is so nice we are going to meet at Sunset Park in the shelter house. Come out and enjoy! 
Wednesday, June 14th ,  1:30 p.m. – Movie Matinee – featuring "Seven Brides for Seven Brothers" Come join us as we watch this fun movie. We will even have popcorn. It is sure to be a treat! 
Mondays in June, 9:30 a.m. – Table Top Games Please join us for a chance to socialize with other seniors in our community and play Table Top Games. This is includes SCRABBLE, Euchre, Uno, Hand and Foot, Puzzles, etc. Groups of 4 or 6 per table. Participants must have proof of vaccination and must pre-register. 
Tuesdays and Fridays in June, 1:30 p.m. – EUCHRE  We are opening for Euchre on all Tuesday's and Friday's in June. You must pre-register and have proof of vaccination to attend as space is limited.  
Thursdays in June, 9:30 a.m. – POKENO. Since we can't play cards right now we have the next best thing – POKENO! If you have never played – you need to give it a try. Fun for everyone.
Fridays in June at 9:30 a.m. – Bingo. We have limited room – so call to reserve your spot and play Bingo. For each game you win you will be entered into the monthly drawing for a $20 GC to Walmart. Call and reserve your spot today! 
Note from Activities
June is going to be an exciting month! If you have not heard the great news – we are playing cards again at the center. You must be fully vaccinated and pre-register to attend. As a bonus you don't have to wear a mask while playing. Again – thank you for doing your part to keep Shelby County Healthy. 
Also, we will be moving to our new space at the MHP Health and Wellness Building in July. We are super excited and hope you will come check it out and join in the fun. It is a great opportunity to invite a friend to come with you as well. It is a great time to join because everyone will start out fresh. New opportunities to get acquainted and make new friends. 
Stay tuned for new information about our move and new programming for July on our Facebook page. I am personally getting very excited and want to welcome you all to our new location. If you ever have questions about our center, membership, etc… I am here and happy to help! Please call me at (317) 398-0127 anytime. 
As summer weather approaches I feel that I need to remind you all to take good care of yourself. Wear sunscreen when outdoors. Drink plenty of water. Take a break when working in the yard or garden. I can't think of a better way to spend a gorgeous summer day – than with a nice glass of lemonade in the shade. 
Things are looking up!!!! 
Crystala Evans, ADC
Shelbyville Activity Coordinator