Shelbyville
Operational rules during COVID-19
To keep everyone safe masks will be required for those who have not received their vaccination. Masks are optional for those 15 days out from their final COVID vaccination.
We ask everyone who has received their vaccine to remain 3 ft. apart, 6 ft. for those without vaccinations
Spaces remain limited for each activity. Please call to make reservation ahead of time.
To keep cross contamination from occurring and to ensure safety: you may bring in individual beverages but no sharing. Pre-packaged food is allowed.
If you are experiencing any symptoms of illness, please remain at home.
Please know that the Executive Director, Staff and Board of Directors are trying to ensure seniors safety while providing services and programs.
Coming Events: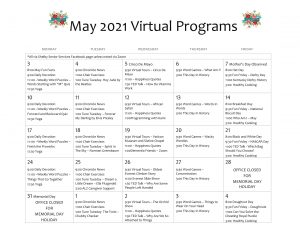 May 2021
May HighlightsWednesday, May 5th ,  1:30 p.m. –Diamond Art Bookmark with Rebecca $8  Join us for our Crafty Wednesday as we create Diamond Art Bookmarks. Cost is $8 – paid to Instructor at the time of the class. 
Tuesday, May 11th, 9:30 am. to 1:15 p.m. – BINGO Blitz We will be having a special Bingo on a Tuesday this week. You must call in to reserve your spot.  
Wednesday, May 12th ,  1:30 p.m. –Fraud Prevention and Scam Awareness with Mary Ann Turner Welcome our special guest speaker – Mary Ann Turner who will be joining us to discuss Fraud Prevention and the current Scams that are out there now. This is going to be a presentation you are not going to want to miss!
Thursday, May 13th ,  1:00 p.m. –Bookclub with Pam Weakley at Sunset Park  For May we are going to be reading, "All Creatures Great and Small," by James Herriot. Since the weather is so nice we are going to meet at Sunset Park in the shelter house. Come out and enjoy! 
Friday and Saturday, May 15th and 16th,  – Garage Sale  Come shop our Garage Sale on Friday and Saturday. Money goes to help us buy things we will need at the new facility. 
Wednesday, May 19th at 1:30 – Pet Collage with Pam. We are going to be making a collage of either Dogs or Cats. Depends on what you fancy, or mix it up and have both. Join us as we prepare a fun collage. No charge to attend, we just ask that you sign-up to attend. 
Wednesday, May 26th ,  1:30 p.m. – Movie Matinee – featuring "Oklahoma" Come join us as we watch the movie Oklahoma. It is sure to be a treat! 
Friday, May 7th, 21st and June 4th – EUCHRE You must sign-up and be pre-registered to attend as space is limited. Proof of vaccination required to play. 
Mondays in May, 9:30 a.m. – Table Top Games Please join us for a chance to socialize with other seniors in our community and play Table Top Games. This is includes SCRABBLE, Euchre, Uno, Hand and Foot, Puzzles, etc. Groups of 4 to a table. Participants must have proof of vaccination and must pre-register. 
Tuesdays in May, 1:30 p.m. – EUCHRE  We are opening for Euchre on Tuesday's in May. You must pre-register and have proof of vaccination to attend as space is limited.  Thursdays in May, 9:30 a.m. – POKENO. Since we can't play cards right now we have the next best thing – POKENO! If you have never played – you need to give it a try. Fun for everyone.
Fridays in May at 9:30 a.m. – Bingo. We have limited room – so call to reserve your spot and play Bingo. For each game you win you will be entered into the monthly drawing for a $20 GC to Walmart. Call and reserve your spot today! 
*** Our offices will be CLOSED for the Memorial Day Holiday on May 28th and 31st
Note From Activities:
May is Older Americans Month! We hope you will join us in sharing your story about how you personally have been connected via Shelby Senior Services. Throughout this pandemic we have been providing phone calls to our seniors to check-in on them, sent cards, and even paid a few personal visits here or there. Our food pantry has provided canned goods and much needed toilet paper to seniors in need. We have provided and continue to provide in-person activities (when were able to) and provided virtual activities throughout the entire pandemic. Our staff have called and assisted with scheduling of COVID vaccines. We have tried to foster strength and connectedness within our community. We have all had to ban together and have adapted to daily changes. 
I sincerely want to take time to applaud all of those who have done their part and received their vaccines. Keeping Shelby County safe has been a collective effort on everyone's part. Your help in doing so has not gone unnoticed. 
We would love to hear stories about how you have been connected with services within our community, keeping in touch with your friends and family, or overcoming an obstacle during this time. Your stories are all examples of we have worked together to strengthen our community. I would love to share your stories via our FB page. Please call me at (317) 398-0127 or email me at cevans@shelbyseniorservices.org so that I can share the good news!!! 
We remain stronger together and we are moving ever forward! 
Sunny days are here again, 
Crystala Evans, ADC
Shelbyville Activity Coordinator