Shelbyville
Coming Events: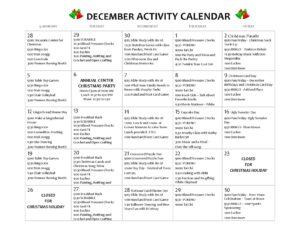 December 2022
Note from Activities
Merry Christmas and Happy Holidays! We are very excited about the December calendar. So many fun things to do this month. Please make sure to R.S.V.P. early so that we can plan accordingly. Most items listed in the Highlights section are things that require you to sign-up for in advance so that we are prepared. Our Annual Christmas Dinner is December 6th and the doors open at 11:00 AM. We will not have our regularly scheduled activities that day. Steve Jeffris will be here to perform that day at 12:30 a.m.
We will be closed on December 23rd and 26th for the Christmas holiday and there will be no activities on those days. On December 28th we will be celebrating the New Years holiday with Ballroom Dancing – complete with a DJ and a New Year's toast. Come dressed in your black and gold for the 2023 New Year and don't forget your dancing shoes.
May you and yours be blessed this holiday season. Know that you all hold a special place in my heart today and always!
Sincere regards,
Crystala Evans, ADC
Shelbyville Activity Coordinator
December Highlights
*Thursday, December 1st at 1:00 Pack the Pantry Pie Party and Pie Trivia – For National Pie Day we are going to Pack the Pantry with Canned Food Donations. Join us for Pie and Pie Trivia and a Pie in the Face between Liz Renton and Kim Koehl. Drop your cans in the box for the person that you want to receive a Pie In the Face.  

Friday, December 2nd at 9:00 a.m. Fun Friday – Christmas Sock Trade-Up We are going to have fun by kicking off December with a Christmas Sock Exchange. Bring a pair of Christmas Socks to trade. You can add a little fun to the Christmas Socks by adding a bow and a surprise inside if you desire. Only people who bring a pair of Socks for the exchange will be able to participate. You can also wear your festive holiday attire and add a pair of Christmas Socks to show off. Bingo prizes will be sponsored by Waldron Rehabilitation and Healthcare Center.  

*Friday, December 2nd at 11:30 Holiday Music with Don Stegemiller Come out and enjoy some holiday music during lunch. You are welcome to book lunch with Kathy from CICOA at least a week in advance or bring a sack lunch and enjoy the music. This is FREE and fun for all. We will be playing Euchre at 1:00. Come hear the music beforehand and them stay for cards! 

*Tuesday, December 6th Christmas Dinner and Party at the Center  Doors open at 11:00, meal at 11:30 and Music at 12:30. Cost for the meal is $5 for members and $8 for non-members. You MUST pre-pay for this meal. No tickets will be sold the day of the meal. 

*Wednesday, December 7th at 1:00 pm What Your Family Needs to Know with Murphy Parks Greg Parks from Murphy Parks will be here to discuss What Your Family Needs to Know – A Guide to Pre-Planning. We will discuss everything from writing your obituary, funeral arranging, making your wishes known and you will be able to ask questions with someone in the business of helping make life easier on your loved ones. It is giving the greatest gift to your loved ones. Please sign-up in advance.

Thursday, December 8th at 1:00 p.m. Book Club at the Horizon Center with Pam Weakley from the library. This month we will be discussing our favorite books. We will have cocoa and cookies for all to enjoy. All are welcome!

*Thursday – December 8th at 1:30 p.m. – Movie Matinee "White Christmas" and Popcorn We are going to be showing "White Christmas" this month. Come and enjoy a movie and some popcorn while watching a fun movie. Movie is 2 hours long. Please sign-up in advance for the movie.

Friday, December 9th at 9:00 a.m. – Fun Friday – Christmas Card Day and December Birthday's  Today is the day to share Christmas Cards with one another. You can bring one card and give it to a special friend, or you can bring a bunch of cards to share with everyone. Here is a chance to give out and receive Christmas cards without having to spend the postage. Prize table sponsored by Ashford Place. We will also be celebrating our December Birthday's with cupcakes.

*Monday, December 12th at 9:00 a.m. Gingerbread House Day We will be making gingerbread houses today for National Gingerbread House Day. Come prepared to create a Gingerbread house to take home. You must R.S.V.P. by December 9th so that we know how many houses to be prepared for. You can bring candies, etc… that you might want to use to set it apart. Hot cocoa will be available for everyone while we decorate to Christmas music. 
*Tuesday, December 13th, 20th and 27th at 9:00 a.m. – Breakfast Bash We are going to have Breakfast available at 9:00 a.m. Come join us for breakfast followed by games. Goodwill donations are accepted and appreciated. We do need you to sign-up at the front desk at least a week in advance to make sure that we have enough for everyone to enjoy. 

*Wednesday, December 14th at 12:00 p.m. Lunch and Learn on the Road to Grover Museum  Join us at Grover Museum at 12:00 for our Lunch and Learn. We will be having lunch, cookies and cocoa, and learning about the Grover Museum. We will also be taking a tour of the streets of Old Shelby to admire all of the lovely Christmas trees. Lunch will be provided by Bellacino's. Come enjoy the music of the holidays. You must R.S.V.P. at the front desk by December 12th. Room for 15 guests

Thursday, December 15th at 1:30 Jewelry Class with Kathy Barker COST is $8 We will be making a beautiful pair of earring for us to keep or give away as a Christmas gift. Colors of the beads will vary – so they will each be unique. Kathy will have a selection to choose from. Limited to 12 guests and the cost is $8 for each pair. Come try your hand at jewelry making. 

*Thursday – December 17th at 3:00 p.m. – Music and a Meal – Over The Hill Gang and Dinner Mixer Please call to reserve your spot to make sure we have enough food. This event is open to Shelby Senior Service members. Dinner will be provided. 

Friday, December 16th at 9:00 a.m. Fun Friday – Ugly Sweater Day We are going to celebrate this fun Friday by wearing our Ugly Sweaters. We will be celebrating today by wearing our Ugly Sweaters. Our prize table sponsor is Morristown Manor. 

*Wednesday, December 21st Day Trip – Festival of Trees  COST is $15 You must sign- up in advance as space is limited to 14 passengers. Lunch is at your expense and there will be lunch available at the Historical Society Stardust Café. You can also bring a sack lunch if you desire. There ae over 75 trees on display 

Thursday, December 22nd – Festivus and Re-gifting White Elephant at 2:30 p.m Please R.S.V.P. for this so that we know how many people will be participating in the White Elephant. We are going to have a Festivus Party and do a White Elephant Re-Gift Exchange. Bring an item to share. We will have snacks, a Festivus Party, airing of grievances, and feats of strength. Along with wearing of festive hats. Wear your most crazy hat and vote for the most creative. And you will be deemed the King or Queen of Festivus. Bring an item that you want to re-gift for the White Elephant. 

We will be CLOSED on December 23rd and 26th for the Christmas Holiday

*Wednesday, December 28th at 1:30 p.m. Ballroom Dancing and New Years Fun We are going to gather for music and dancing. This time we are going to have a DJ playing music and we will be dancing the afternoon away. We are going to have a mock-New Year's celebration complete with a toast. Wear your dancing shoes and your best New Year's attire. We think you will have a ton of fun! 

Friday, December 30th at 9:00 a.m. Fun Friday – New Years Celebration We are going to celebrate the New Year and ring in 2023. We will have a toast at noon and will have Bingo and prizes. Jane Sparks is sponsoring our Bingo Prize table. We are excited to be ringing in this New Year in person. Come join the fun as we celebrate the last Friday of the year.