Shelbyville
Operational rules during COVID-19
To keep everyone safe masks will be required to be worn inside building. If you do not have one, one will be provided.
No-touch temperatures will be taken when entering building. If over 99 degrees you will be asked to go home.                                       
We ask everyone to be 6 feet apart to ensure social distancing.
Spaces are limited for each activity. Please call and make reservation ahead of time.
To keep cross contamination from occurring and to ensure safety: you may bring in individual beverages but no sharing is allowed.
No food will be allowed.
Please know that the Executive Director, Staff and Board of Directors are trying to ensure seniors safety while providing services and programs.
Coming Events: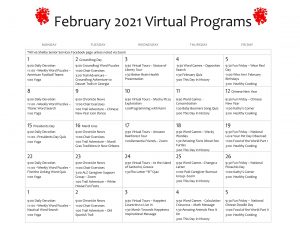 February 2021
February Highlights
Mondays in February, 9:30 a.m. – Center Social and Open Crafting Please join us for a chance to socialize with other seniors in our community. This is also an open crafting session. You are welcome to bring a craft that you want to work on, paint, do adult coloring, knit, crochet, etc… Gather with others for a fun way to kick off the week. Activity is limited to the first 9 people who call to register.
Tuesdays in February, 1:30 p.m. – Come Paint With Us  Bring your paints, pieces in progress, or just come as you are and we will get you painting. This is an open painting session and we invite you to come be creative amongst others who share your passion. We can give you some ideas and see where it takes you. 

Wednesdays in February – Crafty Wednesday We will be getting crafty with some fun things in the month of February. We will be doing a craft every week. We are asking for a small monetary donation to help cover the cost of the crafts – due at the time of the craft. 

Thursdays in February, 9:30 a.m. – POKENO. Since we can't play cards right now we have the next best thing – POKENO! If you have never played – you need to give it a try. Fun for everyone.
Fridays in February at 9:30 a.m. – Bingo. We have limited room – so call to reserve your spot and play Bingo. For each game you win you will be entered into the monthly drawing for a $20 GC to Walmart. Call and reserve your spot today! 
Friday, February 5th , 19th and March 5th, 1:30 p.m. – Jeopardy.  Come play Jeopardy at Shelby Senior Services. This is just like the popular TV Game Show. You are not going to want to miss this!
Friday, February 12th ,  1:30 p.m. – Chinese New Year Presentation Chinese New Year is on Friday, February 12th and we are going to have a presentation about Chinese New Year. Come learn and celebrate with us as we ring in 2021 in a different way! 
February offers so many opportunities for celebration. We begin with Groundhogs Day and move on to the Chinese New Year, President's Day, Valentine's Day and bring it full circle with Mardi Gras! We have lots of opportunities for themed programming and ways to celebrate. Call me to reserve your spot at one of our exciting activities today! We will continue to follow the guidelines that are placed before us such as mask wearing and social distancing. As clients become vaccinated we will continue to be hopeful that life will make great strides to return us to some semblance of a new normal. Until then let's all renew our diligence to protect ourselves and one another by 
Routinely wearing our face coverings 
Washing our hands and using hand sanitizer regularly 
Sanitizing high-touch surfaces frequently
Practicing social distancing whenever we are outside our intimate family and friend bubbles
Keeping groups small and socially distanced when we are together
We will continue to provide programming that is safe and we welcome your attendance. We have so much to celebrate in February and I hope you will join me! 

Always, 
Crystala Evans, ADC