Health & Wellness 
February Events: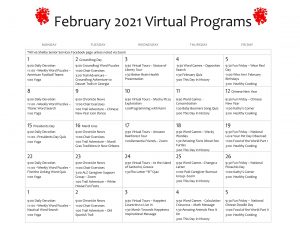 Physical exercise – where you worry about the cons of what can go wrong; well let's talk about the pros of exercise because we all know 2020 was enough of negativity for a lifetime. Did you know that moderate physical activity is good for ALL ages? That the more that you exercise after the age of 50, the other positive effects come into play in your everyday routine: 
Boosted Immune Health – When you have a strong and healthy body it tends to fight off more infection and disease and helps gain natural energy that your body is made for.
Respiratory and Cardio Function – The body would not function without the heart and lungs and with more frequent physical activity you strengthen your airways and your heart health by lowering the risk of heart disease and your blood pressure.
Strong Bones – Frequent exercise protects your body against bone loss and even if prior to exercise you have had replacements you have alternatives for strength training to improve your strength and balance!
Improved Gastrointestinal Health- Exercise helps boost your metabolism and is an excellent remedy for your digestive health.
Chronic Condition Protection – You lower the risk of any serious health conditions such as arthritis, dementia, diabetes and obesity. 
Shelby Senior Services has wonderful programs that can be adapted at our Horizon Locations in this New Year, call our office today or check out our Facebook page for healthy activities and exercises to begin your physical exercise journey today! Check out the calendar and come start your journey!