Health & Wellness 
May Events: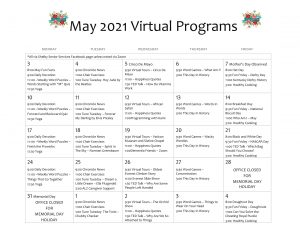 We love to bring awareness to you all year round and I would like to share a few important ones. May is dedicated to ALS Awareness, Stroke Awareness, Cystic Fibrosis Awareness, and Skin Cancer Awareness. This month also brings awareness of mental health. After the past year and all of the changes that took place between COVID, quarantine, toilet paper shortage, and even possible sickness and loss, your mental health is one thing that struggles the most. 
Personally speaking, COVID was stressful for me as it was and still is for others today in regards to feeling isolated and stuck. We felt scared for ourselves and our loved ones and didn't know what tomorrow would bring and, quite frankly, we still don't know. Here are some things you can do to improve your mental health throughout the month of May: 
Track gratitude and achievement with a journal – Track three things you were grateful for and three things you were able to accomplish. 
Take a 30 minute walk in nature – The walking path at Blue River Memorial is breathtaking but so are all of our parks in Shelbyville. 
When the sun comes out, try your best to enjoy 15 minutes of sunshine. Vitamin D does the body good!
Send a thank you note – The point of this is to show someone you appreciate them. At the same time, your happiness increases and hopefully theirs too. 
Try to get connected with the community again. We all need the friendships that were kept during isolation and hopefully we can see all of you for some of our activities! If you or someone you know needs more information on mental health, you can contact the National Alliance on Mental Illness at (800) 950-6264 or you can visit nami.org to find out how you can get involved with Mental Health Awareness for the month of May!