Fairland Horizon Center
September Events:
Every Thursday at Fairland Fire Dept. Community Room
400 W 400 N, Fairland, IN 46126
9:30 am until we are done for the day!
Kathy Miller, 317 398-4817 or 317 364-0029
Mornings:
9:30-   10:00      Coffee Chat
10:15 – 11:00     Exercises with Abbagail Sept. 1, 15, & 29
10:00 – 11:00     Chair Volleyball Sept. 8 & 22
Bring a Friend! Lots of Fun!!!
11:00                 BIBLE STUDY
11:00 -12:00      Mind Games , Board Games, Bridge
12:00                  Lunch $5.00
Pease make reservations by the Tuesday prior
September 1  First Thursday Euchre 
Lunch:   Penne pasta alfredo chicken,  Italian green beans, salad and garlic bread
1:00  Euchre tournament …prizes for High and Low Scores
September 8   "2022 All Center Birthday Party"
Today we will celebrate everyone's birthday!!  Be prepared to share a story of a favorite birthday memory!
Our lunch tables will be birthday month tables and you will sit with the folks that share your birthday month.
I will have sign-up sheets out for you to help me with the decorating!  You can do a "birthday party theme" for your month, or theme it with a big event that happens that month ie:  February and Valentines day. We will award a prize for the best table!  I will have ham sliders and party foods for the menu. And of course…, birthday cake and ice cream for dessert!
1:00 What else….but party games!
1:00 Scrapbooking
September 15   "Dementia Awareness "
Lunch:  Kathy Cooks menu: TBA
1:00   We all know someone who personally has dementia or cares for someone who does.   It is often times a long journey that requires much patience, kindness, and understanding.  Today you will have the opportunity to take a Virtual Dementia Tour with Donna Sipes, our Shelby Senior Services Social Worker.  Donna will be joined by Heather Todd from Care Patrol. Heather will share with us some practical ideas on how we can help make a difference in the lives of folks suffering from dementia through the program "Dementia Friends."
SUNDAY SEPT 18th … see flyer!!!  Y'All Come!!!
September 22  " The Party's Over!!"
Lunch: Leftovers from Sunday or Kathy's Surprise!
1:00  Free day….cards, games, puzzles…you name it….whatever you want!
September 29   Bingo! 
Menu:  TBA…Prepared by Walker Place
1:00  Bingo—yes, with prizes!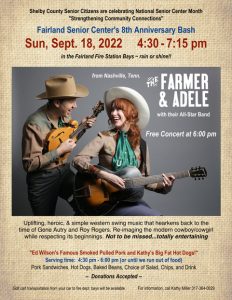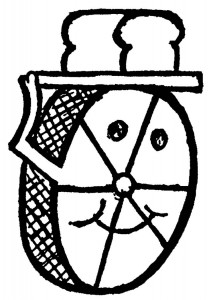 Fairland Meals on Wheels
Team Success
A very important Volunteer component for our Meals on Wheels program serving the Fairland area is transporting the meals from MHP to the pick-up location in Fairland!
This takes approximately 30 minutes – the folks on both ends are simply a delight and it is a wonderful volunteer opportunity for those with little free time but willing to serve the community!!
DETAILS
Pick up hot and cold container from MHP Cafeteria at 10:30 a.m.
Transport to Fairland Town Hall (old fire station). Turn towards Triton Schools off Fairland road, past Sutherlands, turn left on Washington. At stop sign turn right (never crossing railroad tracks). Town Hall is on the left – Linda and driver will meet you. Unload into their containers.
Return containers to MHP unless driving route the following day.
Mileage will be paid.
Background check required.
Meals are delivered Monday-Friday. You can sign up for one day per month, one day per week, whatever fits your schedule!!
Make a difference today!!
Contact Dee Perkins at Meals On Wheels if you are interested in volunteering at 317-398-4470.
**************************************************************************************************************