Shelbyville
Operational rules during COVID-19
To keep everyone safe masks will be required to be worn inside building. If you do not have one, one will be provided.
No-touch temperatures will be taken when entering building. If over 99 degrees you will be asked to go home.                                       
We ask everyone to be 6 feet apart to ensure social distancing.
Spaces are limited for each activity. Please call and make reservation ahead of time.
To keep cross contamination from occurring and to ensure safety: you may bring in individual beverages but no sharing is allowed.
No food will be allowed.
Please know that the Executive Director, Staff and Board of Directors are trying to ensure seniors safety while providing services and programs.
Coming Events: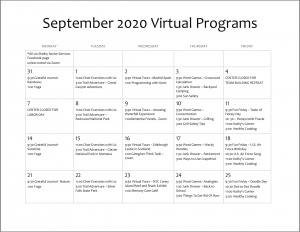 September 2020
     We made it to September! Starting this month from a safe social distance by being thankful for you and for your investment in the great work at Shelby Senior Services. I want to take a moment to just say "Thank You" for making this possible
     Times of hardship and struggle have a way of humbling us and making us more aware of our dependency on others. Even as our days are filled with online meetings rather than face-to-face, I realize how much your compassion and support mean to me and all of us at Shelby Senior Services. It truly gives us great encouragement to know you are still there, helping others, and partnering with us to make this community a better place for seniors.
    We're experiencing some of the most challenging times in our lives. We may be required to wear masks and stay 6 feet apart, but we have a great opportunity right now to stand together for deeper connection and more kindness, more understanding, more generosity, more gratitude.
    Your investment of time, talent and treasure makes Shelby Senior Services work possible and inspires us to strive to make every day better than the last. Give yourself a pat on the back — and a virtual high five from me!
Shelby Senior Services is stronger because of you.
Thank you!
Crystala Evans