Health & Wellness 
April Events: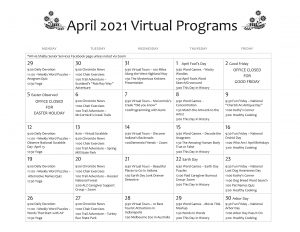 April 11th is World Parkinson's Day and while we raise awareness for Parkinson's throughout the month of April, Shelby Senior Services also has activities that can help ease the symptoms for those with Parkinson's. Although there is not cure or remedy for Parkinson's, there are ways that you can improve your lifestyle and health with some activities or changes to help ease the distress of Parkinson's. 
Some of those activities include: 
Tai-Chi – Videos posted on Facebook every Thursday at 11am
Yoga – In person hopefully this summer but videos posted on Facebook every Monday at 1pm
Massage Therapy
Walking – Walk with Ease each Wednesday at 1pm at the Parks Department
Gardening – Weather is beginning to be beautiful enough for it
Dance – Aerobics every 2nd and 4th Friday
Here at Shelby Senior Services, we can help you all stay active and healthy. Give our office a call today to schedule for these activities before they fill up! 
If you or someone you know has symptoms of Parkinson's or want to know how you can make a difference, go to Parkinson.org. You can also call Shelby Senior Services at 317-398-0127 for more details on the programs we offer and how they can make a difference in your day to day well-being.