Health & Wellness 
January Events: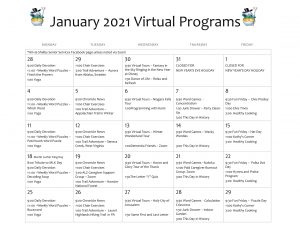 Hello and Happy New Year! I would like to take a second to introduce myself as the new Health and Wellness Coordinator. I am 25 years old and was born and raised here in Shelbyville where I graduated in 2013. I am currently completing my Bachelor's degree in Business Management with a focus in Human Resources. I am married and have two amazing children, a two-year old boy and a two-month old little girl! I am looking forward to serving my community and grow more within Shelby Senior Services as your Health and Wellness Coordinator, let's make this year count! 

Now speaking of New Year's, I bet everyone is making their New Year's Resolutions and figuring out what things you may want to change for 2021. Due to COVID in 2020 and quarantining, you may have focused on  healthy eating and exercising more. I want to talk about another resolution – financial wellness. Financial wellness is an essential key part in your mental and emotional health. When you are able to set yourself a financial goal you can feel better about how you are able to strive in life for yourself and your family. To set a financial goal you have five steps to accomplish: 
Write your goal down –save for a new vehicle, pay off credit card debt, or even save for your retirement fund. When you write down what your financial goal is, you are more prone to achieve that goal. Put the list somewhere you can see it to be sure you are reminded of your goals.
Be specific – The goal of "save more money" is not enough information to keep you motivated. My personal goal is to pay off all credit card debt and have $10,000 in my savings account for home improvements.
Make them measurable – Break down how much a month or week you will need to have in order to accomplish your goal. Want to put $10,000 in your retirement fund? That is approximately $840 a month. Break your goal down into smaller pieces in order to meet that expectation for yourself.
Give yourself a deadline – When do you want this goal accomplished? Based on what your financial goal is when does this need to be completed? 
Lastly, make sure they are YOUR goals – When you compare your own goals with someone else's you sell yourself short and bring yourself down. Set your goal and be sure that you keep yourself motivated with the end goal for YOUR financial wellness.